Research that feeds innovation, entrepreneurship and commercialization is thriving at U of T. We have a well-earned, impressive reputation for bringing cutting-edge discoveries to the world, turning ideas and intellectual property into new companies and accelerating them into the marketplace. Our community of researchers, innovators and entrepreneurs is constantly creating new technologies, products and services that are improving lives around the world.
U of T is a North American leader in the number of new research-based start-ups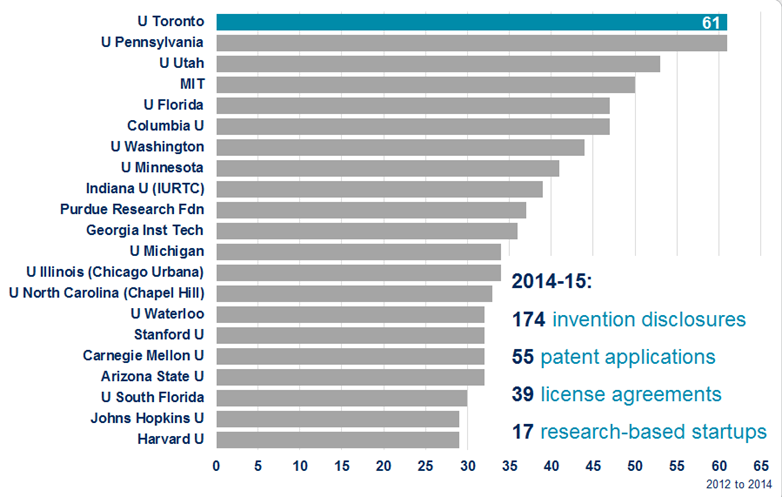 NOTE
New research-based startup companies created at US and Canadian universities (2011-12 to 2013-14). Data source: Association of University Technology Managers (AUTM). Universities reporting as systems are excluded. Where available, U of T includes partner hospitals for startup companies; other measures exclude partner hospitals (e.g. invention disclosures).
The quality and impact of the innovations, products and services generated by U of T researchers is reflected in the awards and funding they have received.
From 3D printing for kids to spine surgery tools:
U of T celebrates its top innovators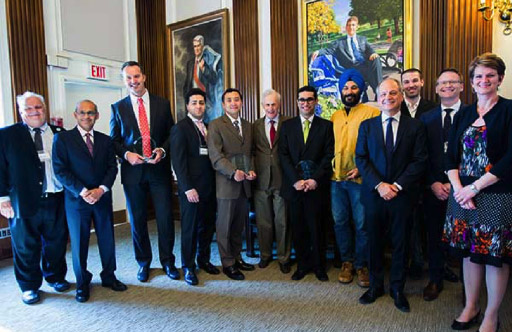 The array of ground-breaking inventions produced by U of T researchers is truly impressive.
In 2011 the VPRI launched the Inventors of the Year program to recognize the superb contributions U of T researchers make to global society through their inventions. These awards give us an excellent opportunity to reinforce the idea that university research – and, especially, U of T research – makes a difference to progress and to the quality of our lives. The 2015 Inventors of the Year are:
Parham Aarabi in Electrical and Computing Engineering invented the Extended Touch User Interface technology that enables any flat surface to become tap-sensitive by placing a mobile device on it.
Hugh Liu of the U of T Institute for Aerospace Studies, invented the System for Generic Synchronized Motion Control, technology that has the potential for a wide range of applications, such as enabling unmanned aerial vehicles to be used for wildfire monitoring.
Richard Cobbold of the Institute of Biomaterials and Biomedical Engineering, and U of T alumnus Dr. Amir Manbachi of Spinesonics Medical Inc. invented the PedicProbe technology that consists of an imaging array at the end of a surgical drill kit. The device uses ultrasound technology to give surgeons a clearer picture during operations where screws are inserted into the spine.
Karan Singh of Computer Science and Dr. James McCrae, post-doctoral fellow, invented flatfab and True2Form. Flatfab is software created for non-professionals, such as hobbyists and children, to create compelling 3D objects. True2Form also improves the productivity of design professionals, enabling them to sketch in 2D freely and have their creations automatically transformed into 3D digital models. True2Form has been tested and used as a design tool by students at John Paul II Catholic Secondary School in London, ON. 
Igor Stagljar from the Donnelly Centre for Cellular and Biomolecular Research, and Dr. Julie Petschnigg, invented the Mammalian membrane two-hybrid (MaMTH) technology, a powerful tool for investigating the dynamic interactions of human integral membrane proteins, which should prove useful in the development of therapeutics, especially for cancer and neurological diseases.